It's almost like adding another room to your home – at a fraction of the cost.
With PGT Eze-Breeze® Sliding panels, you can really start to enjoy your outdoor space. Whether you're replacing an existing screen enclosure or adding it for the first time, you can turn those neglected spaces into year-round gathering places. Eze-Breeze® Sliding Panels are uniquely designed and custom-sized to fit existing openings without expensive re-framing. So it's easy to enclose your outdoor spaces. Versatile, rugged and attractive, they're also a snap to operate. Open, they let in the breeze while screening out insects and debris. Closed, they provide protection from rain, snow, wind and summer sun.
Lightweight, but heavy-duty. Eze-Breeze® Sliding panels are constructed of durable aluminum frames with tough powder coat. The frames hold mesh screens and lightweight, vinyl-glazed panels in place. The strong, 10-mil vinyl glaze we use provides panoramic views, while keeping wind and bad weather out. If accidentally distorted, it will return to its original shape within minutes. If cut or damaged, it can be replaced easily and inexpensively.
Vertical Four Tracks
Vertical 4-track panels offer 75% ventilation. In other words, three of the lightweight, vinyl-glazed panels can be easily raised or lowered over the fourth to create an outdoors feel. Or remove and store the panels – leaving the screens in place – for 100% airflow. Vents are available in a variety of colors including clear, smoke gray, bronze, and dark gray to suit your preference.
▪ 4 Vents offer 75 percent ventilation
▪ Vents are rolled with tough 10mil vinyl for keeping bugs,pollen,dirt, and weather out
▪ Tilt in, removable vents make cleaning a breeze
▪ Vertical spreader bars or added durability
▪ Color matched hardware
▪ Sizes accommodate virtually any size opening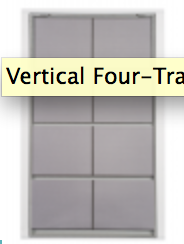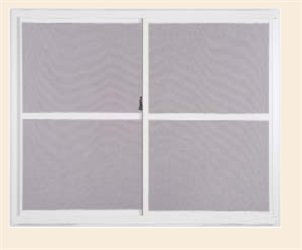 Horizontal Side Slider
With just one finger, full-length panels slide left or right on corrosion resistant, neoprene rollers bringing a wide-open, spacious look to your home.
Horizontal side-slider panels offer 50% to 100% ventilation. Move them back to reveal half or most of the open screen. Or use our pocketing option to tuck the panels completely out of the way.
▪ 2 or 4 track frame option
▪ Vent quantities range from 2-10 to fill any size opening
▪ Vent configurations: stacked,staggered,pyramid, or condo
▪ Neoprene rollers
▪ Cabana Door
The PGT Cabana Door is the ideal companion to our verticals, our horizontals, and all of our PGT Eze-Breeze products. The design is sleek and modern with an innovative frame that converts from z-bar to equal-leg in a snap.
▪ Four-Track frame is factory rolled with 1814 charcoal screen mesh
▪ Innovative Z-Bar frame, which easily converts to an equal leg frame, designed to work in any opening
▪ Single or double door
▪ Standard 14 1/4" kick plate or customize the kick plate to meet your needs
▪ Vents are rolled with tough 10-mil vinyl
▪ Standard or custom sizes
▪ Factory installed astragal on double door
▪ In-swing or out-swing
▪ Factory installed 3/8" saddle threshold
▪ Optional 1 7/8" or 2" bumper threshold
Ask about our Side Slider Garage Door Screen from PGT.